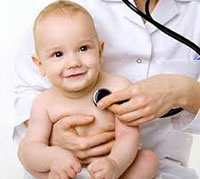 Paediatrics is a medical specialty that manages medical conditions affecting babies, children and young people.

Paediatricians are doctors who look at specific health issues, diseases and disorders related to stages of growth and development. This is an area of medicine where the doctor works closely with the patient and their family. Paediatrics is a diverse, stimulating and hugely rewarding specialty. As a paediatrician you could be working in:
General paediatric units seeing a wide range of conditions affecting children
Community-based settings managing long-term care of children and young people
Highly specialised units working in a wide range of sub-specialties such as neonatal medicine
Paediatrics is a broad-based specialty which allows doctors to be generalists and see children and young people with a wide range of illnesses and disease or to become very specialised in certain areas.