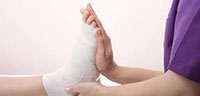 Joint Care & Orthopedics
Orthopaedics is the branch of surgery which deals with any injury or damage to the bone, joint, ligament, muscle or tendon.
LMSH Expertise
The Lotus Multispeciality Hospital is the only hospital in Pune region which have 24 hour orthopedic service with full time consultants providing specialized and advanced care. Our highly experienced team has performed a huge number of complex Orthopaedic surgeries. The department of Joint Care & Orthopaedics at Lotus Multispeciality Hospital specializes in:
Complex trauma and limb/deformity reconstruction
Joint replacement/resurfacing (partial and total) and joint preservation
Advanced Arthroscopy (knee, shoulder, elbow, ankle, hip, elbow, wrist)
Ligament reconstruction and Sports medicine
Arthritis including Rheumatoid and other inflammatory arthritis
Bone cancer
Osteoporosis
Spine
Hand and foot/ankle surgery
Pediatric Orthopaedics
The OPD Complex of Orthopaedic outpatient is situated on the ground floor of the hospital and the Physiotherapy / Rehabilitation & Hydrotherapy department is located adjacent to it for patient convenience.

Our Operation Theatre (OT) Complex has ultra clean laminar air-flow for orthopaedic surgery including joint replacements. This significantly decreases chance of any infection. It has a state of the art imaging system to perform image guided procedures with smaller incisions. High resolution cameras in our Arthroscopy system enable us to perform complex surgeries through key holes. Surgical intensive care unit and team of highly qualified anaesthetists and intensivists provide backup for complex surgeries.
Services
Trauma Unit
Arthroscopy (Key hole surgery) unit
Arthritis and Joint Replacement
Paediatric Orthopaedics
Hand and Upper Extremities
Foot & Ankle Surgery
Sports Injuries
Spine
Physiotherapy, Hydrotherapy Rehabilitation
Trauma Unit
Advanced Trauma Life Support (ATLS) team providing 24 hr accident and trauma services

Arthroscopy (Key hole surgery) unit
With arthroscopic surgery, diagnosis and treatment can occur in a single procedure. Small holes are made and fine instruments are introduced into the damaged joint. One of these tools is a tiny camera that projects images of the joint through fiber optics onto a monitor. This allows the physician to manipulate other instruments to perform the surgery.There are many benefits to arthroscopic surgery over traditional (open) surgery, including, shorter recovery time, minimal scarring and less pain.

At Lotus Multispeciality Hospital internationally trained arthroscopy surgeons provide arthroscopy services for knee, shoulder, elbow, wrist, hip and ankle joints. These include instability repair for shoulder dislocations, rotator cuff repair, sub-acromial decompressions, Acromio-clavicular joint stabilization, cruciate (ACL/PCL) ligament reconstructions, meniscus (shock absorber of the knee joint) repair/excision, patella (knee cap) stabilization , cartilage transfer and regeneration, chondroplasty, mosaicplasty, arthroscopic assisted fracture fixations, synovectomy/bursectomy (removal of inflamed and damaged tissues) and more. Cartilage/ meniscal procedures in selected patients can avoid the need for a joint replacement.

Arthroscopic surgery has the advantage of avoiding damage to muscles (unlike open procedures) and provides earlier mobility. Most procedures are performed on an outpatient basis, and patients can be home within 24 hrs. Patients generally return to work and their regular daily activities earlier than with other techniques.
Arthritis and Joint Replacement
Joint replacement surgery involves replacing a destroyed joint with an artificial joint. In knee or hip replacement surgery, the artificial joint is made out of special alloys (Titanium/Cobalt chrome), ceramic or ultra high molecular weight polyethylene (UHMWPE). The choice of implant is made according to the bone structure of an individual. In the case of joint replacement in the hand, the new joint is most commonly composed of silicone or the patient's own tissues such as a portion of tendon. At Lotus Multispeciality Hospital, we offer partial replacements and resurfacing to suitable patients with the help of high quality implants of international standard which have been tried and tested worldwide.

Paediatric Orthopaedics
Traumatic and Non-traumatic disorders in children, birth deformities in newborns are managed with additional support from the Pediatric team. Bowlegs, knock knees and club feet are managed with expertise.

Complex problems are also managed like limb deficiencies; Developmental Dislocations of Hip, Perthes disease, SCFE; limb lengthening procedures; Spine deformities; neuromuscular diseases like Cerebral palsy

Hand and Upper Extremities
Hand problems like fractures, tendon injuries, nerve injuries, rheumatoid hand deformities etc. are managed by our hand specialists.Some of the specific conditions we treat are:
Hand:
Fractures
Tendon injuries
Nerve and blood vessel lacerations
Congenital (birth) deformities
Workplace and overuse injuries
Carpal tunnel syndrome
Trigger finger
Ganglion cysts
De Quervain's syndrome
Percutaneous (minimally invasive) fixation of hand and wrist fractures
Shoulder:
Arthroscopic stabilization for shoulder dislocations (recurrent)
Arthroscopic treatment of Rotator cuff tears/ tendonitis/ bursitis
Impingement syndrome
Fractures, dislocations, subluxations
Replacement/resurfacing/partial replacement
Arthroscopic cartilage procedures to preserve damaged joint
Elbow:
Arthroscopic treatment of damaged/inflamed joint
Tendonitis/Arthritis/Bursitis
Nerve compressions
Tendon ruptures, fractures, dislocation
Replacement
Foot & Ankle Surgery
Our team of experts provides services for traumatic and non-traumatic problems of Foot and Ankle

Sports Injuries
Sports injuries are caused by overuse, direct impact, or the application of force that is greater than the body part can structurally withstand. There are two kinds of sports injuries: acute and chronic. An injury that occurs suddenly, such as a sprained ankle caused by an awkward landing, is known as an acute injury.
Chronic injuries are caused by repeated overuse of muscle groups or joints. Poor technique and structural abnormalities can also contribute to the development of chronic injuries. Medical investigation of any sports injury is important, because you may be hurt more severely than you think. For example, what seems like an ankle sprain may actually be fracture.
Our experts provide non-operative as well as operative solutions to patients with injuries due to sporting activities. We have dedicated clinics for sports injuries with facilities of gait analysis, foot pressure measurement and measurement of spine dynamics. We aim to get athletes back to competitive sports as early as possible.
Advanced injection techniques are offered in selected patients. This includes Platelet rich plasma (PRP) injection to aid tissue healing and decrease inflammation. In this technique, small amount of patients own blood is processed and healing factors are isolated. This is then injected in the damaged area as an OPD procedure.
Spine
Back and neck pain is assessed and investigated. The in house MRI scanner provides detailed images with reporting by expert radiologists. Treatment of prolapsed disc, spondylosis, nerve and spinal cord compression is done with medication, injections or minimally invasive surgery as appropriate.